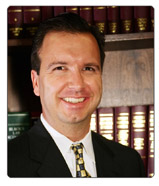 Dean Broyles Dean Broyles earned his juris doctor degree from Regent University School of Law, in Virginia Beach, Virginia. Dean received his undergraduate degree in sociology from Westmont College in Santa Barbara, California. Professionally, when he is not handling civil litigation or business matters, Dean's personal passion is his volunteer commitment as an advocate for preserving and protecting the constitutional rights of individuals.

Dean cares deeply about his profession, is hard working, and will fight for your legal rights. He has successfully litigated many cases worth hundreds of thousands of dollars on behalf of his clients. In regard to business matters, Dean has proficiently advised corporate clients and negotiated and drafted contracts worth millions of dollars on their behalf. Several of Dean's recent litigation projects have garnered significant local and national media attention. Dean lives with his wife Shona and three adopted children Ryan, Jasmine and Bryant in Escondido, California. He is a Christian who serves his local church as a volunteer leader. In his free time, Dean enjoys skiing, mountain biking, and working out at the gym.


James M. Griffiths practices in the areas of business litigation, personal injury, and non-profit incorporation. Mr. Griffiths' practice has included taking various litigation matters from complaint filing through judgment, involving general/subcontractor disputes, breach of contract matters, Prop. 65 litigation, and real property disputes. Prior to joining The Law Offices of Dean R. Broyles, James served as Litigation Counsel for the Pacific Justice Institute in Sacramento and worked in private practice in San Diego.

Mr. Griffiths is admitted before all California state courts and the United States District Court for the Southern and Eastern Districts of California. He earned his juris doctor degree from the University of San Diego in San Diego, California, where he received honors for Lawyering Skills and received AmJur Award for Comparative Civil Liberties while studying abroad at Trinity College Dublin. Mr. Griffiths also received his undergraduate degree in political science from USD, graduating magna cum laude in 1999.

In addition to his work with The Law Offices of Dean R. Broyles, James also works as an associate with the Western Center for Law and Policy [link], a non-profit organization defending First Amendment rights. His background in First Amendment cases and civil business litigation experience provide a strong foundation for his work with The Law Offices of Dean R. Broyles.

James lives with his wife Rachel in Rancho Bernardo, California. He is an evangelical Christian, who serves on the Board of Directors at his church, Skyline Wesleyan and leads a home fellowship group for young marrieds. In his free time, James enjoys playing hockey and spending time with friends and family.